Halloweentown is such a great movie and I love watching it every year in October. So when I saw this tag I knew I had to do it, the questions are so fun. The original creator is Bookish Coffee Blog.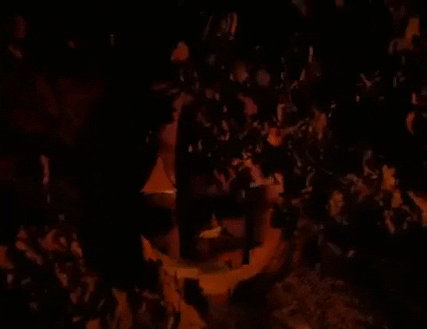 Gif from Giphy
QUESTIONS:
Halloween gives kids ideas about there being magic
1) Name a book that is full of magic – Burn for Me (Hidden Legacy #1) by Ilona Andrews – The magic in this book is interesting as it's passed down through generations and each magic user is a different rank.
Halloween is cool!
2) Name one book from your October Tbr – Beetle & the Hollowbones by Aliza Layne
Nobody really appreciates my taste in weird stuff
3) Name a favourite underrated book – The Exact Opposite of Okay by Laura Steven – I loved this book and I feel like I haven't heard many people talk about it.
The Cromwells are powerful witches, and it took the power of all of them to defeat the evil
4) Name a powerful fictional family – House von Hasenberg from The Consortium Rebellion trilogy by Jessie Mihalik – This series centres around the different siblings of House von Hasenberg, which is a powerful political House and each sibling had their own unique skill.
Halloweentown was written about in a book, so maybe it's real, maybe it's not
5) Name a favourite non-fiction or historical fiction book – The Air You Breathe by Frances de Pontes Peebles – This is such a beautifully written historical fiction book.
Mayor Kalabar wants revenge
6) Name a book that you thought you would enjoy but ended up not – Signal to Noise by Silvia Moreno-Garcia – I really thought I'd love this book since it has a lot of the things I like in it (friendship, characters reflecting on the past, past/present timeline) but I really disliked the main character and thought she was very selfish.
Instant Witch's Brew: Sometimes it works, sometimes it doesn't
7) Name your favourite or least favourite book under 200 pages – This Is How You Lose the Time War by Amal El-Mohtar and Max Gladstone – This is one of my favourite books and even though it's technically over 200 pages (I think it's around 210) I'm still counting it for this question.
Time works differently in Halloweentown
8) Name a book that was so good it made time stop – House of Earth and Blood by Sarah J Maas – I felt like I flew through this book, I was so enamoured by this story.
Mortals see mortals do
9) Name a book featuring non-human characters interacting with human characters – Three Mages and a Margarita (The Guild Codex: Spellbound #1) by Annette Marie – This book is about Tori, a human, who ends up being a bartender at a magical guild.
Luke helps save the day
10) Name a character who you thought was bad but ended up having redeeming qualities – Murhder from The Savior (Black Dagger Brotherhood #17) by J.R. Ward – Murhder's character had been talked about and speculated about in this series for a long time before his book and he's been described as an unhinged character but he wasn't nearly as unhinged as he was made out to be.
An evil force is at work in Halloweentown. We have to put Merlin's Talisman in the giant pumpkin to save everybody
11) Name a favourite fictional villain and hero – Renegades by Marissa Meyer – I read this trilogy this year and loved it and I thought it was such a great spin on superheroes and I loved the dynamics between the villains and heroes in this book which is why I picked it for this question.
Halloweentown is saved!
12) Name a book with a really satisfying ending – The Toll (Arc of a Scythe #3) by Neal Shusterman – I loved reading this book and seeing how the author wove this world together, I was so interested in every little detail in this last book.
Have you watched Halloweentown? Have you read any of these books?