I watched Julie and The Phantoms last year on Netflix and I loved it, it has amazing songs and I loved the overall story and themes of the tv series. I saw this tag on WordsAboutWords blog and the original creators of the tag are MeeghanReads and Sarah.
NOW OR NEVER
a book at the top of your TBR
The House in the Cerulean Sea by T.J. Klune – I've heard so many amazing things about this book ever since it was released so I really want to read it.
WAKE UP
a book you were hesitant to read
The Unraveling of Cassidy Holmes by Elissa R. Sloan – I was hesitant to read this because it has a bit of a low rating on Goodreads but the premise sounded so interesting that I ended up reading it anyway. 
THE BAND IS BACK
a sequel that you waited a long time for
Shades of Allegiance (Anomaly #3) by Sandy Williams – I've waited for this book ever since the second book was released in 2016 and this one was just released last month, I really enjoyed this trilogy.
BRIGHT
a book that took you by surprise
The Exact Opposite of Okay by Laura Steven – The humour and the important themes this book centred on really surprised me, I loved how it was written and I loved the main character.
WOW
an action-packed book
Polaris Rising (Consortium Rebellion #1) by Jessie Mihalik – This is such an action packed sci-fi space opera. The storyline was very interesting and I loved how each book in this trilogy focuses on a different sibling and I also really liked the romance in each book.
FLYING SOLO
a book with incredible friendships
House of Earth and Blood (Crescent City #1) by Sarah J Maas – I read a lot of books with incredible friendships but this book immediately came to mind, I loved Bryce and Danika's friendship.
I GOT THE MUSIC
a book that got you out of a slump
Every Heart a Doorway (Wayward Children #1) by Seanan McGuire – This book didn't get me out of a reading slump but I think it would be a great book to get you out of one since it's short and less daunting but also has a really intriguing premise and storyline.
THE OTHER SIDE OF HOLLYWOOD
a book with a great ensemble of characters
The Diviners by Libba Bray – There was a lot of main characters in this series and I loved them all. They all felt individual and had their own storylines that tied up with the other characters in the books. Their personalities were all fully fleshed out and they felt like real people.
ALL EYES ON ME
the prettiest book in your collection
A Snowfall of Silver by Laura Wood – This has such a pretty cover and I love the silver foiling on it.
FINALLY FREE
a series you wish would never end
Heart of Mist by Helen Schuerer – Heart of Mist is the first book in a YA fantasy trilogy, the last book has already been released and I've already read and loved that too but this is a series where I wish there was more books in it simply because I loved it so much and miss reading about the characters and story.
PERFECT HARMONY
your fave otp
Kate and Curran (Kate Daniels series by Ilona Andrews) – Kate and Curran are just one of my many OTPs, I loved how their relationship evolved throughout the series and I loved reading about them together.
EDGE OF GREAT
a book that is (almost) perfect
The Toll (Arc of a Scythe #3 by Neal Shusterman – I loved The Toll and thought this book was the perfect ending to the trilogy. I don't know if I was meant to answer this question with a book that I thought needed something more or something changed but instead I chose The Toll which I think is absolutely perfect and wouldn't change anything from it.
UNSAID EMILY
a book that makes you cry
The Air You Breathe by Frances De Pontes Peebles – This is such an emotional poignant story and two young girls in Brazil in the 1930s from completely different backgrounds growing up together and wanting to become musicians together, it's such a beautifully written story.
YOU GOT NOTHING TO LOSE
a villain you love to hate
Renegades by Marissa Meyer – There was so many interesting villains and heroes within this trilogy and I loved how you it's not fully clear morally as to who's a villain and who's a hero.
STAND TALL
a book that gave you feelings
The Seven Husbands of Evelyn Hugo by Taylor Jenkins Reid – I feel like I don't even have to explain why this book gave me all the feelings since everyone knows of this book and has probably read and experienced all those feelings themselves.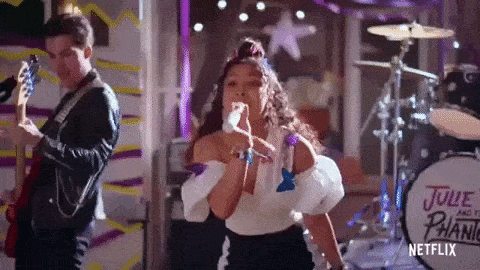 Have you watched Julie and The Phantoms? Or have you read any of these books?